Customer file
The customer file allows you to record all information about companies for which fleet management, long-term rental, service management, etc., are provided. In addition to the customer's contact details, it sets out, among others, the method of settlement with the customer, the format of sending electronic invoices, the amount of the discount/mark-up on re-invoicing, discounts from fuel companies (penny or percentage), the method of invoicing and others.
All customer-defined settings support recurring invoicing or re-invoicing of selected costs.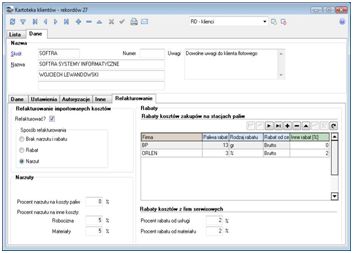 Framework contracts and vehicle contracts
Framework agreements define the basic relationship with the customer and their terms. The program stores contracts as well as annexes. Contracts can be printed according to their own design or stored as electronic attachments.
Contracts relate to specific vehicles and contain all information about their rental/servicing (e.g. date of validity, detailed conditions, fees, payment schedule, etc.). The system allows the operator to quickly view the vehicle data from the contract level (e.g. service history, service authorizations, technical data, current driver, etc.)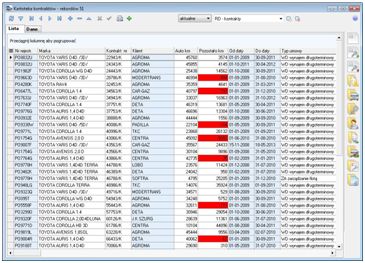 Invoicing fleet customers
The invoicing module allows for issuing invoices in accordance with the schedule of recurring receivables, re-invoicing service costs or costs exceeding the terms of the contract. You can generate invoices in different formats and send them together with attachments to the customer by e-mail. It is also possible to issue corrective invoices. Comprehensive invoicing allows you to operate according to different variants - you can print invoices with or without an attachment, load selected groups of vehicles or all of them.